Activity 2: Lessons in love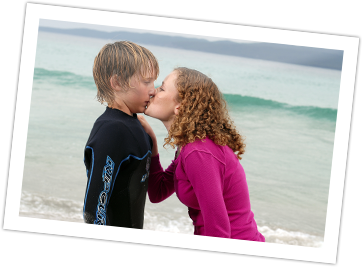 Year Level: Years 6/7 – 8/9
Description: This sequence of learning experiences draws upon Mortified, Episode 16: DJ Taylor and Lockie Leonard, Episode 8: The Details, to explore self-awareness, relationships, respect and compassion for other people's feelings when dealing with crushes and feelings of love.
In Mortified, it is Valentine's Day and Taylor wrongly thinks that Leon has sent her a Valentine present. Consequently, she betrays a secret told to her by Hector in order to impress Leon.
In Lockie Leonard, it is Lockie's 13th birthday and he is scared and confused about the details of being the boyfriend of Vicki. Consequently, he behaves even more strangely when he meets Dot, the young surfer girl.
Curriculum Study Areas: English, The Arts (Media), SOSE, Health and Physical Education, Personal and Social Capability
Topics/Themes: Self-awareness, relationships, adolescence, love, respect, honesty and trustworthiness, film language and techniques, fantasy sequence, growth and development, gender perspectives
Aims:
Identify narrative structures of episodes by completing worksheets.
Compare and contrast different gender perspectives of issues and associated feelings in respect to love and relationships.
Interpret feelings depicted in texts through discussion and description.
Deconstruct and analyse a fantasy sequence using film language.
Construct a storyboard using technical film language.
Teaching and Learning Activities: Each strand contains activities organised in two main components:
the 'discussing' component: students will use individual and group talk to come to understandings about the issues and characters and to explore the significance of those understandings (e.g. for their own lives).
the 'doing' component: students will use their understandings and explorations in order to do something – for example, perform or tell a story, create a product, transform some aspect of the series.
Downloads
Clips
Mortified
Valentine's Day
Leon's Phone Call
Lockie Leonard
Shakespeare
Lockie in the Bath