Activity 1: First Day Feelings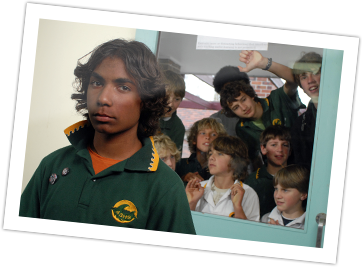 Year Level: Years 6/7 – 8/9
Description: This sequence of learning experiences draws upon Mortified, Episode 14: Little Fish and Lockie Leonard, Episode 2: Stormy Monday, to explore family relationships, the problems associated with trying to fit in, self-awareness and self-acceptance, bullying, the lack of understanding and tolerance when starting high school.
In Mortified, Taylor thinks that she is 'so ready' for Day 1 at Driftwood High but her day goes from bad to worse as she has trouble fitting in, gets lost and receives little help from her sister, Layla.
In Lockie Leonard, Lockie is 'dreading' his first day at Angelus High school. He is bullied, follows Egg's advice and puts on a weirdness act, is kicked out of Maths class and wishes he was back in the city.
Curriculum Study Areas: English, The Arts (Media), SOSE, Health and Physical Education, Personal and Social Capability
Topics/Themes: Gender perspectives, self-awareness, fitting in, family, relationships, adolescence, transition, comedy genre, bullying, film language and techniques, narrative structure
Aims:
View text(s) and explain choices of audience, purpose and context.
Analyse a scene using film language and identify how film techniques create mood and convey a message.
Identify and interpret the emotions associated with starting something new.
Explore the reasons and consequences of bullying in school.
Compare and contrast the first day experiences of Lockie and Taylor from different gender perspectives.
Teaching and Learning Activities: Each strand contains activities organised in two main components:
the 'discussing' component: students will use individual and group talk to come to understandings about the issues and characters and to explore the significance of those understandings (e.g. for their own lives).
the 'doing' component: students will use their understandings and explorations in order to do something – for example, perform or tell a story, create a product, transform some aspect of the series.
Downloads
Clips
Mortified
Day 1 at Driftwood High School
Lockie Leonard
Day 1 at Angelus High School
Lockie Reflects