Activity 4: From Book to Film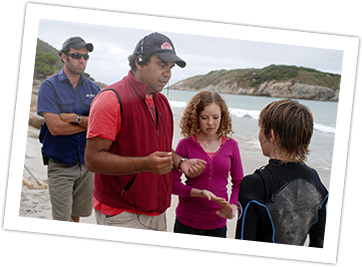 Year Level: Years 6/7 – 8/9
Description: The activities in this section are designed for students to consider the similarities and differences between the original novels and the television series. The comparison can be facilitated by examining the various versions of Lockie Leonard (in print and on screen) or by using one or more of the events below. However, students familiar with the books and the entire series will be able to identify their own list of similarities and differences:
a) Construction of Character – Lockie Leonard
b) Comparing the original novels to the TV series of Lockie Leonard
c) Writing a script and producing a storyboard
Curriculum Study Areas: English, The Arts (Media), SOSE, Health and Physical Education, Personal and Social Capability
Topics/Themes:

Personal and social capability:

English and Media studies:

adolescence

asking for help

coping with challenges

growing up

identity and individuality

masculinity

peer pressure

positive thinking

relationships

transition

adaptation

appropriate and effective communication

genre

inter-textuality

screen acting

screen narrative

signs, codes and conventions

stereotyping
Aims:
Examine the variations and implications of how the Tim Winton novels have been adapted for television.
Analyse the reasons why adaptations from text to screen need to be made.
Compare and contrast the sequence of events that constitutes the Lockie Leonard story.
Deconstruct the factors that contribute to character development.
Repurpose the concept of Lockie into other illustrative and constructed formats.
Analyse the relationships between characters.
Design and construct a storyboard.
Teaching and Learning Activities: Each strand contains activities organised in two main components:
the 'discussing' component: students will use individual and group talk to come to understandings about the issues and characters and to explore the significance of those understandings (e.g. for their own lives).
the 'doing' component: students will use their understandings and explorations in order to do something – for example, perform or tell a story, create a product, transform some aspect of the series.
Downloads
Clips
Consequences
Cause and Effect
( Violence )
Zig Zag Hill
Reconciliation